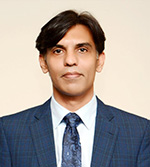 Member Board of Advisers
Executive Director Sustainable Development Policy Institute earned his Ph.D. in Food Security from the Natural Resources Institute (NRI), University of Greenwich, United Kingdom. Prior to joining SDPI he served as Head of Programs, OXFAM GB Pakistan. He has conducted intensive research on "Food Insecurity", "Regional Trade", and "Globalization and Rural Livelihoods". His other research interests include institutional reforms, non-traditional security issues, and energy governance.
Dr. Suleri is called on to give policy advice and is serving on various policy forums/advisory boards at national, regional, and international levels. Currently he is serving as member of Economic Advisory Council; member Advisory Committee of the National Planning Commission and is also member of the National Advisory Committee jointly formed by Government of Pakistan and the USIAD for Pakistan Strategic Support Porgram.
He served as Member of Board of Management of Pakistan State Oil (PSO), and Chaired Board Audit and Finance Committee from 2010-2012. He is also serving on Board of Studies of various universities and co-supervises PhD and MSc students under NCCR program. He was part of the official delegation of Government of Pakistan to WTO Hong Kong Ministerial Conference. He was also part of official delegation in Rio+20 United Nations Sustainable Development Conference. He represented Pakistani civil society at the Doha and Cancun Ministerial Conferences of WTO as well as World Food Summit (FYL).
Dr. Suleri has been published in many national and international journals. He also contributes his policy analysis on sustainable development issues in major national and regional papers and is invited as guest analyst in electronic media on political economy of sustainable development.