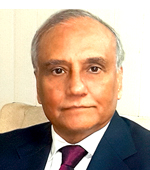 Executive Director, Secretary to the Board
Mr. Hayat was a career civil servant from 1973 to 2010 with many years of policy making experience. He has also headed a number of complex government organizations. His main area of interest is external economic relations and economic development. For twelve years, he served in the Pakistan Embassies in Tokyo, Japan and Washington DC, USA where he made impressive and path-breaking contributions to strengthened bilateral relations. There he gained deep understanding of the dynamics of decision making in governments and businesses of host countries. He has extensive knowledge on the influence of political economy on imports, trade and investment, finance and international economic assistance.
He has been involved in international negotiations of laws, treaties, agreements, and dispute settlement including international arbitration and in national and international procurements with contract negotiations and enforcement.
Mr. Hayat has held key positions in government including Federal Secretary (Planning Commission), Ministry of Planning & Development, Secretary Board of Investment, Additional Secretary, Ministry of Commerce, and as Minister Trade in the Pakistani embassies in Washington DC and Tokyo. He has been member or secretary to a number of Cabinet Committees and has served on the Board of a number public sector corporations and agencies.
Since leaving government, Mr. Hayat has taught Public Administration at the NUST Business School, Islamabad, and from 2012 to early 2014, was the Chief Executive Officer, New Horizon Exploration and Production Ltd. private oil and gas exploration firm. He serves as Director on the Board of KASB Bank.