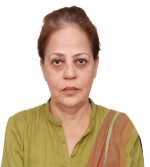 Director , Board of Institute for Policy Reforms
Prof. Ghaus- former Director, Centre of Excellence for Women Studies, Chairperson (Department of International Relations, University of Karachi), and Pakistan Centre for Democracy Studies is currently serving as the Managing Director, Social Policy and Development Centre (SPDC), Karachi. She has a Phd. in International Relations.
Dr. Ghaus has a teaching/ research experience of 30 years and has extensively worked on foreign policy, development, and gender issues. Some of her recent work includes; Devolution and Social Development, Social Impact of the Security Crisis, Women at Work in Pakistan, Gender dimensions of development induced displacement and resettlement: A Case of Lyari Expressway in Karachi, The Scoio-economic cost of violence against women: A Case Study of Karachi, Socio-Economic Impact of Floods in District Thatta: A Gendered Analysis, The changing Security Spectrum of South Asia: Consequences for SAARC', and 'Issues of Cultural Identity, Challenges Confronted by Muslim Societies: From Violence to Political Positivism'. Author of books and monographs she has extensively participated in seminar/conferences and has given lectures in Canadian and American Universities besides attending the sessions of the UNCHR.
She has been actively involved in the Neemran process (Track II initiative). Dr. Ghaus has been involved in the policy- making (both) with the Federal and Provincial Governments on gender-related issues and is a member of Several Technical Committees, Public Policy committees and Advisory Committees, besides, being a member of several professional bodies.