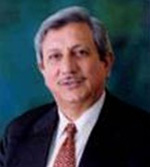 Member Board of Advisers
Worked as Chairman/CEO, Managing Director and Senior Executive in management, engineering and business for 36 years in the world's leading Multinational Engineering, Consultancy & Design Services, Energy & Public Utilities (Gas & Power) & IT companies in the USA, Mid-East and Pakistan. High level of expertise and demonstrated capability in Strategic Planning & Policy, Engineering, Business Processes Reengineering, Change Management & Project Management of large projects and organizations.
Munawar Baseer Ahmad has 40 years diversified management, engineering, regulatory enactment and ICT application experience in the USA, Middle East and Pakistan. Has held positions of Managing Director / Chief Executive for the past 24 years and senior engineering and management positions earlier (1973 – 1984) in the USA and Middle East with the worlds leading multinationals in the technology, oil & gas and engineering industry; such as General Signal, SIP Parsons, Flour Engineers, Shell Engineering, Westinghouse, EMBA Corp. USA, PME International, and CGS (Pvt.) Ltd.
Munawar Baseer Ahmad is currently CEO of EMR-Consult (Energy and Management Resource Group) which is a specialized Energy Sector high level consultancy and professional advisory concern. EMR-Consult has undertaken / in process several key National projects, such as "Owners Engineers" with URS (USA) for Uch-II 404 MW power plant, Thar Coal Resources Development Scoping Study for Fauji Fertilizer Company Limited (FFC), and Technical Advisory to Gunvor Switzerland, FOTCO, and PGPL Consortium for LNG import/infrastructure/services project. EMR-Consult also successfully undertook the IT and Customer Services System assessment and design of Kenya Power & Lighting Co. (KPLC) Data Center and Customer Support System. He was the Team Leader for the Pakistan Power Sector Debt Resolution Plan under a ADB Programme.
He was earlier appointed as the Managing Director Pakistan Electric Power Company (PEPCO) in September 2007, a GOP Company set up for undertaking the reform & restructuring of Pakistan's power sector and preparing the utility companies for corporate and commercial operations in a competitive environment. PEPCO manages fourteen (14) electric utility companies with revenues of US$ 7 billion plus.
Before joining PEPCO, he was Managing Director Sui Southern Gas Company Ltd. (SSGC), for 5 years. SSGC is a public gas utility with revenues of US$ 1.5 billion and over 6000 employees. On joining SSGC in October 2002, he undertook several new and bold initiatives, most notably the preparation of a 5 year Natural Gas Development Plan and also a 25 year National Energy Plan, for ensuring safety, security and sustainable energy supplies to the country. At SSGC he also effectively spearheaded a corporate transformation, and change management process based on technology empowered change with focus on industry best practices, and a customer centric culture based on "Service with a smile". Under his leadership SSGC successfully undertook a three (3) year ICT transformation of about US$ 10 million, based on Oracle ERP solution integrated with a SPL World Group Customer Care & Billing (CC&B) system including CIS, CRM and GIS modules.
These initiatives provided a state of art GIS based Customer Call / Contact Center, the first of its kind in Pakistan, Oracle has showcased SSGC implementation as a flagship site in its Leaders Circle for utilities applications worldwide in San Francisco in 2008. ESRI USA has also awarded Munawar B. Ahmad and SSGC with a special Award for "Best of Class" implementation of a GIS application on a world-wide basis.
Munawar Baseer Ahmad holds a BSc Electrical Engineering degree from University of Engineering and Technology Lahore, and a MSc Engineering and MBA from University of Houston, Texas, USA. He is a registered Professional Engineer in USA (Texas) and with PEC Pakistan, and a member of IEEE USA, Senior Fellow IEEEP, member of Petroleum Institute of Pakistan (PIP), Management Association of Pakistan (MAP) and was President Computer Society of Pakistan (CSP) Lahore. He was a member of the Senate, University of Balochistan 3 years. He was elected to TAU BETA PI and ETA KAPPA NU, Engineering Honour Societies in USA. He is a invited speaker and expert panelist at National and International Seminars and conferences, and has presented over 60 papers in the past 15 years on Energy, Management & Technology applications.
Honors & Professional Societies
Awarded University Blue for sports by UET in 1970,71,72 & Member Sports Council.
Awarded Gold & Silver Medals for sports & academic excellence by UET, in 1970-71.
Member DELTA SIGMA PI. National Business Society, USA.
Member TAU BETA PI National Engineering Honor Society, USA.
Member ETA KAPPA NU. National Electrical Engineering Honor Society, USA.
Member OMICRON DELTA EPSILON. National Economics Honor Society, USA.
Nominated Session Chairman of ITU World Telecom 97, Geneva, Switzerland
Nominated Member Senate University of Balochistan 2007-2009
Management Excellence Award 2004 by 21st Century Business & Economics club.
Sindh Governor's award for Best Utility in Pakistan 2005.
Best of class GIS applications award by ARC Info, USA 2005
Recognized for Change Management Leadership in Public Sector by PROSCI, USA 2006
Invited as special speaker in Oracle World conference San Fransisco, USA 2006
Several awards from Business and Trade Associations for Best of class Public services.
Professional Affiliations and Memberships:
Member IEEE USA
Senior Member IEEEP, Pakistan
Member Management Association of Pakistan (MAP)
Member 21st Century Business & Economics club 2003
Member Pakistan Institute of Management (PIM)
Member Petroleum Institute of Pakistan (PIP)
Member Overseas Universities Alumni club (OUAC)
Member Senate University of Balochistan 2007-2009
Chairman National Energy Plan Taskforce 2005
President Computer Society of Pakistan, Lahore, 1999-2002
Secretary National Power Conference IEEEP 1997-1998
Secretary of Pakistan Association of Greater Houston 1980-83
President Pakistan Student Association University of Houston 1978-79
Founding Member Punjab Vocational Training Council (PVTC)
Registered Professional Engineer Texas, USA, No. 46811
Convener President's Committee for Pakistan Technology Board, 1994.
President & Convener Lahore Smart Community Project ITU/GENEVA 1996
Registered Professional Engineer, Pakistan Engineering Council (PEC) No. Elect/11041.
Sports
Current elected President, Pakistan Cycling Federation (2011-2015)
Pakistan National Color Holder in CYCLING 1970-1972
National Road Cycling Champion 1970-1972
Winner of 100 km Road Race in record time in 1970 National Games in Karachi.
Represented Pakistan as the youngest member of the contingent in the VI Asian Games in 1970 in Bangkok.
Set several new National, Zonal and Inter University records in various National Cycling events (some unbroken to-date).
Won several Gold, Silver, Bronze medals and numerous Trophies in competitive cycling in Pakistan at National level.
Interests
Promotion of corporate social responsibility and environmental preservation by business and industry.
Leading advocate for development of Science & Technology, IT/INFOCOM, Literacy and Education.
Utilization of IT for learning, education and empowerment of the middle class on a global scale. Recognised speaker & expert panelist on Technology and related social aspects in World Forums.
Nature and architectural photography and preservation of architectural heritage.
Promotion of children's education and literacy for the under privileged and social support of the disadvantaged segments of society.
Public Speaking, Guest speaker at various professional Institutions & Universities. Topics covered include Management, Marketing, Information Technology, Internet, Change Management, Corporate Reform & Governance, Regulation & Business Process Re-Engineering.
International/National Conferences/Publications
Nominated Chairman of International Telecom Union (ITU), World Telecom Interactive 97, Intelligent Communities Session in Geneva, Switzerland. First author and delegate from Pakistan to be awarded this unique honour by ITU.
Expert Panelist/Speaker at ITU World Telecom, Geneva, 2009 (only one from Pakistan).
Paper on "Thar Coal Resources Development" accepted for Pittsburgh Coal Conference (PCC) scheduled to be held in Istanbul, Turkey in October 2010
The Paper Titled "Technology Enabled Customer Centric Services in a Public Sector Gas Utility" was the only one from Pakistan to be included in the International Gas Union – IGU World Gas Conference, 2009, Buenos Aires Argentina.
Co-Author of book "Instrumentation and Control" in Process Industry, published by Gulf Publishing, Houston Texas, USA, 1976.
Presented more than thirty (30) papers and invited as Chairman, Panelist, Speaker to several World Class Conferences by ITU, ADB, UNDP, CSP, MAP, PCB, LNG World, Oracle, IEEE USA, IEEEP, LUMS, PIP IGU, PCC etc. Participated/presented papers in various Forums, Seminars etc. in Pakistan and Overseas.
Feature speaker on Bridging the Energy Gap in developing countries at IBC Gulf Conference, Qatar 2005.
Feature speaker on Pakistan Mashal LNG Project at 6th World LNG Conference Rome 2005.
Launched Asian Energy Corridor and the Grand Plan at the 2nd APAC Asian Energy Conference in Beijing 2006.