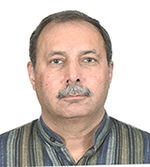 Member Board of Advisers
Lieutenant General Sikander Afzal, Hilal-i-Imtiaz (Military), Retired, was commissioned in The Pakistan Army in April 1972, in an Armoured Corps Regiment. During his long meritorious service in the Army the General Officer had been employed on various command, staff and instructional assignments. After serving in the unit, he was posted to Headquarters Armoured Division as General Staff Officer Grade 3. From there he proceeded to attend foreign language Course (German) in NUML and Company/Battalion Commander Course in Germany. In 1984 he attended Staff Course in Command and Staff College Quetta, followed by Technical Staff Course in 1985 from College of Electrical and Mechanical Engineering. He has held the appointment of Brigade Major of an Infantry Brigade.
He was promoted to the rank of Lieutenant Colonel in 1990. In 1991, he was posted as Battalion Commander in Pakistan Military Academy. In 1993 he was posted as Commanding Officer of an Armoured Regiment. He served in Somalia as part of UNISOM-2, commanding his regiment from 94-95. In 1995 he was posted as Colonel Staff of an Armoured Division. He was promoted to the rank of Brigadier in 1996 and commanded an Armoured Brigade. In 1998-99 he attended National Defence Course at National Defence College Islamabad and was posted as Directing Staff at National Defence College on termination of the course. He also commanded an Infantry Brigade for 2 years. He was promoted to the rank of Major General in 2002, commanded two Infantry Divisions and thereafter was posted as Director General (Analysis) in Directorate General Inter Services Intelligence. His last assignment was as Commander Corps from May 2006 to Nov 2009.
In December 2009 he took over the command of United Nations forces in Liberia as Force Commander and completed his assignment in December 2010. The general officer is retired and resides in Lahore.
The General Officer is a graduate of National Defence College and holds Masters Degree in Defence and Strategic Studies.