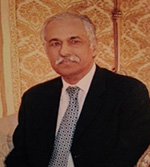 Member Board of Advisers
Sitara-e-Imtiaz, PSP
Work Experience
Minister for Home Affairs, Social Welfare, (Mar 2013 – May 2013)
Govt. Of Punjab, Pakistan
Chairman, National Counter Terrorism Authority (Jan 2009 – Aug 2010)
Inspector General of Police (Jan 2005 – Dec 2008)

National Coordinator, National Counter Terrorism Authority (NACTA)
Director General, Federal Investigation Agency (FIA)
Additional Inspector General, Crime Investigation Department (CID), Punjab

Awarded Sitara-e-Imtiaz by the President of Pakistan (Nov 2002- Dec 05)
Deputy Inspector General of Police 1989 – 2002

CID Punjab
Lahore Division
Bahawalpur Division
Gujranwala Division
Director FIA
Deputy Secretary, Ministry of Interior

Superintendent / Senior Superintendent of Police 1980 – 1989

Islamabad
Jhelum
DG Khan
Multan
Assistant Superintendent of Police 1973 – 1980

Sargodha
Rawalpindi
Islamabad
Okara
Faisalabad
International Seminars and Conferences Attended
Participated in a number of International conferences and presented research papers on Counter Terrorism, Policing and law enforcement.
Professional Trainings
Senior Management Course, Pakistan Administrative Staff College, Lahore, Pakistan 2002
Crisis Management Course at Police Academy, Louisiana, USA. 2001
Senior Crime Investigation Course at Police Academy, Tokyo sponsored by JICA. 1992
SCIMITAR (Senior Crime Investigation Training) at Police Staff College, Bramshill, UK. 1992
Management Course, National Institute of Public Administration, Pakistan 1991
Attachment with London Metropolitan Police, UK 1988
Basic Interrogation Course – Pakistan Intelligence School, Rawalpindi , Pakistan 1978
Basic Intelligence Course – Pakistan Intelligence School, Sawan Camp, Rawalpindi, Pakistan 1976
Training in Civil Services Academy and Police Training College, Sihala, Pakistan 1973-75
Education
MSc. Criminology 1988 – 1989
University of Wales, Cardiff, UK
Government College University , Lahore, Pakistan
Awards
Sitara-e-Imtiaz, conferred by the President of Pakistan.
The citation for the award was as follows:
"Mr. Tariq Parvez belongs to the Police Service of Pakistan. In the wake of a terrorist suicide attack aiming to destabilize the State, he rose to the occasion and displaying commitment and professional acumen, he ensured the apprehension of the masterminds of the terrorist network.
In recognition of his Public Service and outstanding contribution as part of the investigation team leading to the smashing of
a dangerous terrorist network, the President of the Islamic Republic of Pakistan has been pleased to confer on Mr. Tariq Parvez the award of Sitara-i-Imtiaz"
Language Proficiency
English – very proficient – Spoken & Written
Urdu – very proficient – Spoken & Written
Punjabi – very proficient – Spoken & Written