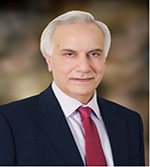 Member Board of Advisers
Mr. Tasneem Noorani is a prominent member of the civil society in Pakistan. Subsequent to his retirement three years back, after serving the GOP in various high profile positions for thirty seven year, he is now into consulting.
Mr. Noorani held the post of Secretary Interior, the highest level civil servant on policy making on security of the country, in the Govt. of Pakistan ,from 2001 to 2004. He was subsequently made the Secretary of Commerce, which is the highest policy framer and implementer of all trade related matters, both national and international, of the Govt. of Pakistan.
Noorani writes for DAWN and THE NEWS on national issues and is often invited by national TV Channels as an expert on government and administrative issues, with special reference to his experience in govt. on security issues and trade and commerce related matters.
Mr. Noorani has an extended of hands on experience, as his CV, which is attached, will indicate. He is also one of the most well regarded and respected former civil servant in the country currently, on account of his conduct and reputation during his years in Govt. service and his extra governmental efforts.
He has shown great passion to work for the uplift of education in the country since his days as Secretary of Education in the Govt. of Punjab. Mr. Noorani is the Vice Chairman of a Trust, which has set up a Rs.400 million cadet college in the interior of Sind (Tando Allah Yar) to give quality education to boys of depressed areas of the country to do their O and A level. This project, by providing the best education available in the country, will hopefully provide educated leadership to people from depressed areas like interior Sind, Tribal Areas, Northern Areas etc. He is also the President of a NGO, set up in Punjab, which adopts govt. primary schools, in order to improve the quality of education imparted by them.
Mr. Noorani was decorated for bravery in his younger days in the 1971 war, as Asstt. Commissioner of a frontline sub division/district He has also been elected Chairman of Lahore Gymkhana Club and the Golf Club. Mr.
The profile of TN Associates can be seen by visiting its website www.tnassociates.net . More information and access to his articles can be had by googling for "tasneem noorani."
TASNEEM NOORANI
Chief Executive
TN Associates (Pvt) Ltd.403 – GreenTrustTower, Jinnah Avenue, Blue Area, Islamabad.
Phone: Off: +92 51 2813003-4
Dir: +92 51 2876829
Cell: +92 300 8550234
Fax: +92 51 2871546
Website: www.tnassoicates.net
Date of birth: 8-8-1945
EDUCATION
1979 MBA (Marketing and Finance )– ICMS Tehran (in collaboration with Harvard Business School, USA) 1966 M. Sc. (Geology)– University of the Punjab, Pakistan
PROFESSIONAL TRAINING:
2007-08 Certified Director Pakistan Institute of Corporate Governance (PICG). 2000 Information Technology and e-Government Pakistan Administrative StaffCollege, Lahore, Pakistan 1995 68th National Management Course Pakistan Administrative StaffCollege, Lahore, Pakistan 1987-88 50th Advanced Course in Management and Development National Institute of Public Administration, Lahore, Pakistan 1983 Policy and Management of Public Enterprise Institute of International Development, Harvard University, MA, USA 1968-69 Civil Service Academy (CSP batch of 68)
CONSULTANCY EXPERIENCE
1. Assignment for UNDP "SUPPORT TO STRENGTHEN CAPACITIES FOR POVERTY MONITORING AND POLICY ANALYSIS". (November 2005) 2. A comprehensive analysis and evaluation of trade between India and Pakistan on behalf of Ministry of Foreign Affairs, Government of Pakistan August, 2006-April,2007. 3. Consultant with two private industrial concerns on investment diversification, selection of new investment venues, assistance in buying assets from Privatization Commission. 4. Prime consultant for World Bank for evaluating the Public Sector capacity Building Project of the Govt. Of Pakistan 2009
EMPLOYMENT KEY POSITIONS
2004 to 2005
Secretary to the Government of Pakistan, Ministry of Commerce
Key responsibilities:
To develop, strengthen and modernize Pakistan's trade regime practices.
Liberalize flow of trade to move from a regulated to a liberalized trading system
Creating opportunities for Pakistani entrepreneurs to access foreign markets.
International commercial diplomacy to find market access for Pakistani goods.
Steering international negotiations with European Union, USA and other trading partners
Assisting the President and Prime Minister of Pakistan as their principal
Commercial and trading advisor at international fora and in bilateral meetings
Key Activities
Organizing the first ever National EXPO 2005 and Envoys trade Conference in Africa, South America and Central Asia to diversify Pakistan's exports.
Focused engagements with Argentina, Chili and beginning Negotiation with MERCSOUR for a Preferential Trading Agreement.
Negotiating an FTA with Sri Lanka and an Early Harvest Agreement with China.
Institutionalizing Trade personnel selection process. (2001 to 2004)
Secretary to the Government of Pakistan, Ministry of Interior
Key responsibilities included:
Heading all law enforcement security agencies of Pakistan for policy,
Coordinating working of all Federal and Provincial police, intelligence and Para-military forces/agencies administrative and financial control
Negotiating and interacting with United Nations, other international agencies, foreign governments for control of human and drug trafficking anti-terrorism related global security.
Advising and assisting President, Federal Cabinet and National Security
Council in respect of internal security, immigration, policing, criminal justice system and disaster management.
Key Activities included:
Initiated effort in new laws on anti-terrorism ,human trafficking, police reforms, jail reforms and anti-domestic violence
Conceived and implemented national de-weaponization campaign.
Introduced new security digital national identity cards
Coordinated national anti-terrorism campaign against religious extremists.
International spokesman of Government of Pakistan in global action against terrorism in coordination with USA after 9/11 terrorism. (2000 to 2001)
Secretary to the Government of Pakistan, Ministry of Industries and Production
Key responsibilities:
Managing all public sector industries in Pakistan at Corporate level
Playing a key role in attracting and encouraging direct foreign investment in Pakistan as well in privatization of public sector enterprises.
Key achievements included:
Streamlined efficacy SMEDA (Small and Medium Enterprise Development Authority)
Reinvigorating the expert advisory cell of the Ministry.
Begun process for revival of sick industrial units.
OTHER POSITIONS HELD
Secretary Education, Punjab.

Commissioner Faisalabad
D.C, D.G. Khan
Director Civil Services Academy Lahore.
Secretary Planning and Development, Punjab.
Charge de Affairs and Trade Commissioner Pakistan Embassy Singapore.
Chairman, Punjab Cooperatives Liquidation Board.
COMMUNITY AND SOCIAL WORK
1998/2009 Chairman Gymkhana Club, Lahore 1996 President Golf Committee of Gymkhana Club, Lahore. Key achievement included:
An addition of an 'additional golf range' in the club

Revamping the Club building and its dinning facilities.
1997. President of NGO, Rural Area Education Development (READ) running primary schools in Punjab. 2006 Vice Chairman SST establishes and running a boarding house school in Interior Sind. 2006-07 Director Karachi Electric Supply Corporation. 2007-08 Director Pakistan School of Fashion Designs.
CURRENT ENGAGEMENTS:
2013 to date Chairman Sargodian Spirit Trust.(SST) 2009-2010 Chairman Lahore Transport Company a project of the Govt. of Punjab. 2010. Member Civil Military Group Pakistan Institute of Legislative Development and Transparency (PILDAT). 2009-to date Advisor to Philip Morris International / Lakson Tobacco Company(LTC). 2006- Member Board of Directors Nimar Chemical Pvt. Ltd.
AREAS OF SPECIAL INTEREST
Feature writer, 'DAWN' largest English language daily newspaper and The News.