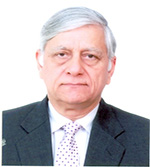 Member Board of Advisers
Mr. Muhammad Abdullah Yusuf qualified as Chartered Accountant from ICAEW London in 1972. He practiced professionally in England for several years before returning to Pakistan. He joined the Pakistan Public Sector in 1980 and held various positions, including as Secretaries of the Privatization Commission, the Board of Investment, and the Ministry of Petroleum & Natural Resources.
He took on the role as Chairman of the Federal Board of Revenue in 2004 until retirement in 2008. Mr. Yusuf is an active Council member of the Institute of Chartered Accountants of Pakistan (ICAP) since 1983. He is currently Chairman of Public Sector Committee and Economic Advisory Committee of (ICAP), member International Public Sector Accounting Standers Board of IFAC, Chairman Pakistan Institute of Corporate Governance and Chairman of Independent Power Producers Advisory Council.
Present Status
Chairman: Independent Power Producers Advisory Council (April 14, 2010 to date)
Council Member: Institute of Chartered Accountants of Pakistan (1983 to date)
Chairman: Pakistan Institute of Corporate Governance (February 25, 2011 to date)
Director: NIB Bank Limited (March 30, 2010 to date)

Designation | Organization | Tenure
Secretary General Revenue Division/Chairman FBR | Government of Pakistan, | from March 11, 2004 to July 24, 2008
Secretary | Ministry of Petroleum & Natural Resources, | from November 26, 1999 to March 11, 2004
Secretary | Planning & Development Division, | from October 12, 1999 to November 26, 1999
Secretary | Board of Investment, | from April 10, 1997 to October 12, 1999
Secretary | Privatization Commission, Finance Division | from January 08, 1996 to April 10, 1997
Managing Director | Pakistan Bait-ul-Mall | from January 29, 1995 to January 07, 1996
Managing Director | Utility Stores Corporation | from September 01, 1987 to April 28, 1995
Finance Director | Utility Stores Corporation | from February 01, 1980 to August 31, 1987
Chartered Accountant | Riaz Ahmed & Co. Rawalpindi | from 1976 to 1980
Chartered Accountant | Burgess Hodgson & Co. | from London 1968 to 1976